Seven Diamond Myanmar Travels & Tours
About Seven Diamond
Our Goal, customer's satisfaction with Express Service!!! Seven Diamond Express Travels Co., Ltd. intend to be uniting conservation, communities and sustainable travel and promotes responsible travel to natural areas that conserves the environment and improves the well-being of local people as we specialize not only on adventure trips like off the beaten trek, remote hiking/ trekking and etc. but also we cater culture trips as well.
Our Packages(Travel To Myanmar)
| | |
| --- | --- |
| | |
| Miracle Golden Rock | Charming Myanmar |
| | |
| Historical Travel Myanmar | Beautiful Travel Myanmar |
............................................................................................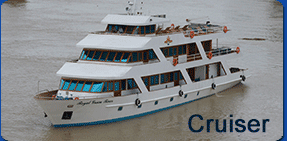 Hot Destination
Hpa-An Myanmar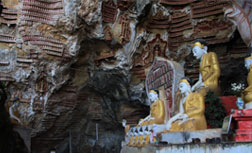 Hpa-An is te capital of Kayin State, is located at 270 km east of Yangon, the population is about 50,000 people and most of them are Kayin race. Recently, removed from the restricted list of travel destinations and reachable by road from Yangon across a new Bridge (Thanlwin) over the Thanlwin River. Fifty percent of the region is covered by forests where can see the world famous teak grow. Limestone hills with numerous caves are the natural attractions for tourist- Mt. Zwekabin; the most meaningful natural hill, Kyaikalatt which is small rock hill formed like a wine glass and Lombumni Garden with 1000 Sal trees along with a 1000 seated Buddha images underneath each Sal tree at the base of Mt. Zawekabin are the signature landmark of Pha-An and other highlights are Bayin Nyi Naung Cave and Saddan immense limestone cave and Shweyinmyaw Pagoda; at the bank of Thanlwin River.
Once return to Yangon, en-route visit Zinkyaik Waterfall and Shwesaryan Pagoda in Thahton town.
Latest News
Weather
19°C
Yangon
Clear
Humidity: 83%
Wind: NE at 9.66 km/h
Wednesday
19°C / 33°C
Thursday
21°C / 34°C
Friday
22°C / 34°C